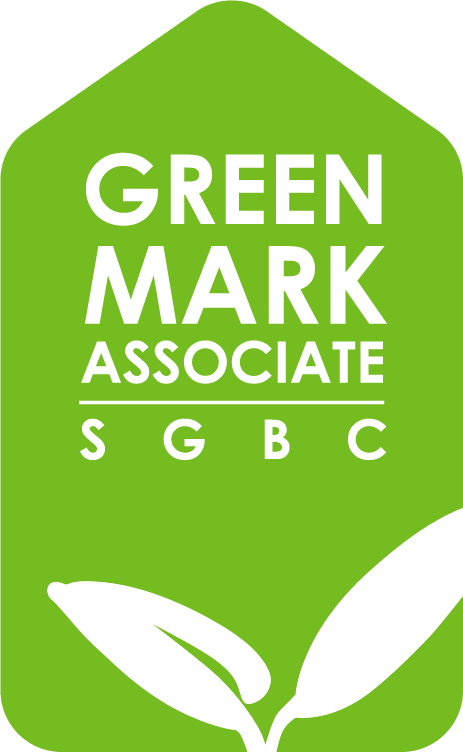 Green Mark Associate Certification
The Green Mark Associate (GMA) certification course is a foundation-level accreditation for new industry entrants or non-technical built environment related professionals seeking to:
Pursue a career in the greening of the built
environment
Demonstrate competency in the fundamentals of
Singapore green building
GMA certification denotes a core understanding of sustainability, green building, the national environmental sustainability legislative framework as well as the key qualities of a green built environment. The Certification Course covers a range of topics that includes energy efficiency, green building materials and technologies, indoor environmental quality and water conservation, intended to enhance and reinforce knowledge on built environment sustainability.
Obtaining the GMA certification demonstrates a working knowledge of green building fundamentals, key regulations as well as trends and developments, which can help open doors to a growing pool of job opportunities available in built environment sustainability.
Who is it for?
Built Environment Professionals Property Managers Interior Designers Corporate Real Estate/ Sustainability teams Construction Professionals Sustainability-related Professionals in non-BE sectors Real Estate Agents Professionals and Graduates looking for career conversion to Green Building sector
Benefits of Green Mark Associate Certification
Green Building Knowledge
Understand the drivers of green building in Singapore and equip yourself with green building design strategies.
For your career
Gain career profiling in the Sustainability Professionals community, opening up opportunities for engagement and collaboration.
Exclusive events
Enjoy preferential rates and exclusive access to built environment sustainability-focused events and training as well as specially curated SGBC events.
Start your Green Mark Associate journey now!
Register now!
Certification Course for Green Mark Associate: Introduction to Built Environment Sustainability

2nd intake
BLENDED LEARNING

Asynchronous online learning (4.5 hours)

Asynchronous learning : learn on your own schedule, within a certain timeframe.
Date: 30 September to 22 October 2023

Online assessment (2 attempts only)
Date: 30 September to 22 October 2023

Applied Learning workshop
Date: 30 or 31 October 2023
Time: 2 to 5:30pm

GMA Certification issued upon successful course completion
Maintain your certification
Attend CPD activities by SGBC-approved CPD course providers
Take on-demand CPD courses from the SGBC Digital Academy
Submit your renewal application!
Empty space, drag to resize
Certification renewal
Renewal Application fee (incl. GST): SGD$108

The fee for renewal is S$108 (inclusive of 8% GST). The application process will take approximately 2 months, if all documents submitted are complete and in order. SGBC will notify the status of the application once the application has been processed.


1. Continuing Professional Development
Continuing professional development is required for the renewal of the Green Mark Associate certification.
Renewal of qualifications is granted only upon the fulfilment of requisite Continuing Professional Development (CPD) points for the respective qualification.


2. CPD accumulation period
The CPD accumulation period begins on 1st June of the previous year to 31st May of the renewal year.


3. Annual renewal requirements

Green Mark Associates are required to meet a minimum of 8 points within the CPD period.


4. Renewal application period
Renewal of qualifications are to be made from 1st April – 31st May annually, as SGBC's renewal administration process will be carried out in June each year. Green Mark Associates (GMAs) must meet the requirements for Continuing Professional Development (CPD) and attain the stipulated CPD points in order for qualifications to be renewed.